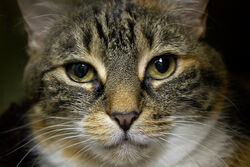 Description
Edit
Westy is a golden or light brown Undercat from the kingdom of Whisper.
Personality
Edit
Westy is first mentioned in Heart's Desire.He is an uneducated cat who always wears a wrinkled white shirt.He is kind and a good friend to Lily.
Heart's Desire
Edit
In the first book Westy isn't seen much,but Lily is quit taken with the handsome cat.He told Lily he didn't want to get between her and Apple and eventually left the wedding.
Heart's Trials
Edit
Westy is not mentioned in this book.
Heart's Battles
Edit
Family Tree
Edit
?--↓--Willow
Marigold|Westy
Ad blocker interference detected!
Wikia is a free-to-use site that makes money from advertising. We have a modified experience for viewers using ad blockers

Wikia is not accessible if you've made further modifications. Remove the custom ad blocker rule(s) and the page will load as expected.